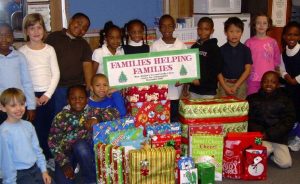 For twenty-eight years, Families Helping Families has provided gifts, clothing, food, and other essentials to thousands of Midlands families in need.  This partnership between the Palmetto Project and WIS TV brings together families, religious groups, businesses, and community groups in the Midlands to sponsor families facing particularly daunting hardships, ensuring that all our neighbors share in the joy of the Christmas season.
The families we serve are referred by social service organizations as having special needs beyond their staff's ability to help.  Often the breadwinner has been laid off, become disabled, or forced to spend limited savings on a medical emergency.  With many, the consistent lack of food in the home has become so significant as to affect the health of the family members.
Please consider helping in one of the following ways this year:
Sponsor one or more senior citizens or families by November 30, 2019 by completing the sponsor form on this website.
What's Next?  We'll e-mail you a profile of your family that will include the names of the parents and children with their ages and genders.  We'll also give you specific needs including the clothing sizes and wish lists for the children.  We ask that you provide an article of clothing, a new toy and a book for each child.  We also ask that you provide a gift card for food at a local grocery store, or non-perishable food items.  Most sponsors say they spend a minimum of $60 per family member.  You will then be responsible for buying and wrapping gifts and delivering them to our warehouse in Columbia.
Volunteer by completing the volunteer form on this website
Donate by making a tax-deductible donation through this website (*or by check).
Donations allow us to provide gifts for unsponsored families and cover our relatively low operating expenses.  We also know these families have needs that extend beyond the season.  Through your generosity we are able to offer some assistance to the children in the Midlands by giving them the tools they need to learn to read.
*If you prefer to send a check, please make it out to:  Families Helping Families and mail it to PO Box 5141, Columbia, SC  29250
You may also contact our office at 803.787.4191 or by emailing fhfcola@palmettoproject.org.
Thank you for your consideration! Families Helping Families Midlands would not be possible without the commitment of our long-standing partner, WIS-TV.